Inventory Details & Specifications for Husqvarna Hedge Trimmer
Husqvarna Hedge Trimmer Only $

CALLFORPRICE

*IN STOCK*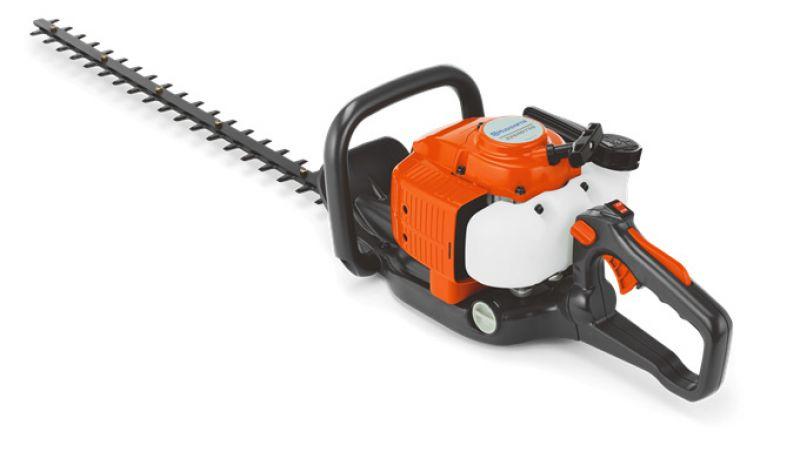 Status: New
Price: $CALLFORPRICE
Item Number: 226HD75S
Location: Rod's Power & Marine
Description & Standard Equipment:

Husqvarna 226HD75S is an exceptionally well-balanced and rugged double cutting edge hedge trimmer with X-Torq® engine. The robust design leads to long product life during tough use.

• Cylinder displacement 23.6 cm³
• Power output 0.85kW
• Knife Length 75cm
• Weight 6kg


Key Features

Long life gear components
The gear components have been developed for long life under tough conditions.

Adjustable rear handle
The rear handle is adjustable to facilitate cutting the sides and top of hedges.

Sharp teeth

Sharp and robust cutting teeth for high productivity and long product life.



Fuel pump
Fuel pump designed for easy starting.
Featured Inventory

View Details
225HP Mercury 225XL V-6 4-Stroke

New 2022 Program
MSRP: $31,910.00 - Get 20% off MSRP / $6,391.00 OFF
Go with 5 Years Factory Backed Limited Coverage
Purchase this Mercury outboard model and get a total of 5 years of Mercury factory-backed limited coverage!
In addition to the standard 3-year warranty, you will also receive a 2-year Mercury Product Protection Gold plan!

ALL NEW V-6 3.4L 4-STROKE MODEL

INNOVATIVE FEATURES

START FASTER The new Mercury FourStroke delivers incredible hole shot to get you moving faster and fishing sooner – and the thrill of having your hat blown off now and then. Get on Plane Fast At 3.4L, the new Mercury V-6 FourStroke boasts ample displacement in the 175-225hp range. Greater displacement means less work to produce more horsepower and torque, which results in greater acceleration. Lightest Weight Lower engine weight means higher power-to-weight ratio, enhanced performance, and better fuel efficiency. Performance-inspired Configuration The FourStroke's four-valve, dual overhead cam design delivers greater acceleration. Advanced Hydrodynamics The FourStroke's gearcase is designed to reduce drag and deliver more stable high-speed performance. Optimized Mount Packages Engine mount package is fine-tuned to achieve peak performance without sacrificing a smooth and quiet ride. Mercury engineers spent countless hours dampening sound and dialing in the configuration of the mount packages to create the optimal balance between performance and vibration.
LIGHT AND MIGHTY Mercury FourStrokes provide premium power and torque in a lightweight package for better maneuverability, greater acceleration, and maximum exhilaration. And you'll love the fuel economy! Lightest Weight Every component has been engineered to meet stringent standards at the absolute minimum weight, making the 3.4L V-6 FourStroke the lightest outboard in its class by more than 10 pounds. 26-inch Mounting Centers The FourStroke's narrow, 64-degree bank angle and single-point cowl latch system enable tighter fit to the engine block. The extremely compact engine makes multi-engine installations feasible on a broader range of boats.
GO FARTHER With superior "cruise" fuel economy, Mercury FourStroke engines take you farther, allow you to stay out longer, and have more fun on the water without spending a fortune on fuel. And isn't that what boating is all about? Advanced Range Optimization (ARO) and closed-loop fuel control Work together to adjust the fuel mixture and deliver the best possible fuel efficiency. Advanced Lubrication System Optimized bearing sizes and oil flows minimize friction and oil temperature to help the engine operate more efficiently. Drive System Optimized hydrodynamic shapes minimize drag and increase fuel economy.
Specifications: • Shaft Length: 25in • Starting: Smart Start Electric • Controls: Remote Mechnical • Power Trim & Tilt • Fuel System: Electronic Fuel Injection (EFI) • SmartCraft compatible • Engine Type: V-6 • WOT RPM: 5200-6000 • Displacement: 209 CID (3.4L) • Induction: 24-valves, DOHC • Gear Ratio: 1.85:1 • Alternator: 85 amp (1071 watt) • Dry Weight*: 475 lbs (215kg) *lightest available model • Steering: Hydraulic (Standard base color), Power (options) • Color options*: Phantom Black(current RPM Group model), Pearl Fusion White, Warm Fusion White, Cold Fusion White *White paint only available on 200 and 225 FourStroke models
RPM Group Re-Powering Services - contact us for a quote!
Professional Offshore Experiences also for private Customers: You will benefit from our 20 years of re-powering experience on your boat - the same as we do for professional heavy users, such as Commercial Fishermen, Whale Watching Tour Operators, Fishing Charters and Sports Fishermen too - on extreme Vancouver Island Westcoast conditions – day by day! Total Cost of Ownership (TCO) focused Re-Powering: We design re-powering to accommodate your individual requirements while keeping the engine configurations sustainable, so that your engine RPM stays mainly in the middle range while retaining an excellent boat performance – with optimized configuration of HP, Propeller, Pitch to your boat measurements. This ensures the most economical operating cost for your individual boat specifications and style of boating.
General Services RPM Group:
• Pre Delivery Inspection - PDI
• Water Testing - 100% ready for operation


View Details
225 HP Mercury 225XL V-6 4-Stroke DTS Cold Fusion

New 2022 Program
MSRP: $35,955.00 - Get 20% OFF MSRP / $7,196.00 OFF
Go with 5 Years Factory Backed Limited Coverage
Purchase this Mercury outboard model and get a total of 5 years of Mercury factory-backed limited coverage!
In addition to the standard 3-year warranty, you will also receive a 2-year Mercury Product Protection Gold plan!

ALL NEW V-6 3.4L 4-STROKE MODEL

INNOVATIVE FEATURES

START FASTER The new Mercury FourStroke delivers incredible hole shot to get you moving faster and fishing sooner – and the thrill of having your hat blown off now and then. Get on Plane Fast At 3.4L, the new Mercury V-6 FourStroke boasts ample displacement in the 175-225hp range. Greater displacement means less work to produce more horsepower and torque, which results in greater acceleration. Lightest Weight Lower engine weight means higher power-to-weight ratio, enhanced performance, and better fuel efficiency. Performance-inspired Configuration The FourStroke's four-valve, dual overhead cam design delivers greater acceleration. Advanced Hydrodynamics The FourStroke's gearcase is designed to reduce drag and deliver more stable high-speed performance. Optimized Mount Packages Engine mount package is fine-tuned to achieve peak performance without sacrificing a smooth and quiet ride. Mercury engineers spent countless hours dampening sound and dialing in the configuration of the mount packages to create the optimal balance between performance and vibration.
LIGHT AND MIGHTY Mercury FourStrokes provide premium power and torque in a lightweight package for better maneuverability, greater acceleration, and maximum exhilaration. And you'll love the fuel economy! Lightest Weight Every component has been engineered to meet stringent standards at the absolute minimum weight, making the 3.4L V-6 FourStroke the lightest outboard in its class by more than 10 pounds. 26-inch Mounting Centers The FourStroke's narrow, 64-degree bank angle and single-point cowl latch system enable tighter fit to the engine block. The extremely compact engine makes multi-engine installations feasible on a broader range of boats.
GO FARTHER With superior "cruise" fuel economy, Mercury FourStroke engines take you farther, allow you to stay out longer, and have more fun on the water without spending a fortune on fuel. And isn't that what boating is all about? Advanced Range Optimization (ARO) and closed-loop fuel control Work together to adjust the fuel mixture and deliver the best possible fuel efficiency. Advanced Lubrication System Optimized bearing sizes and oil flows minimize friction and oil temperature to help the engine operate more efficiently. Drive System Optimized hydrodynamic shapes minimize drag and increase fuel economy.
Specifications: • Shaft Length: 25in • Starting: Smart Start Electric • Controls: DTS Digital Throttle & Shift - DTS Compatible • Power Trim & Tilt • Fuel System: Electronic Fuel Injection (EFI) • SmartCraft compatible • Engine Type: V-6 • WOT RPM: 5200-6000 • Displacement: 209 CID (3.4L) • Induction: 24-valves, DOHC • Gear Ratio: 1.85:1 • Alternator: 85 amp (1071 watt) • Dry Weight*: 475 lbs (215kg) *lightest available model • Steering: Hydraulic (Standard base color), Power (options) • Color options*: Phantom Black(current RPM Group model), Pearl Fusion White, Warm Fusion White, Cold Fusion White *White paint only available on 200 and 225 FourStroke models
RPM Group Re-Powering Services - contact us for a quote!
Professional Offshore Experiences also for private Customers: You will benefit from our 20 years of re-powering experience on your boat - the same as we do for professional heavy users, such as Commercial Fishermen, Whale Watching Tour Operators, Fishing Charters and Sports Fishermen too - on extreme Vancouver Island Westcoast conditions – day by day! Total Cost of Ownership (TCO) focused Re-Powering: We design re-powering to accommodate your individual requirements while keeping the engine configurations sustainable, so that your engine RPM stays mainly in the middle range while retaining an excellent boat performance – with optimized configuration of HP, Propeller, Pitch to your boat measurements. This ensures the most economical operating cost for your individual boat specifications and style of boating.
General Services RPM Group:
• Pre Delivery Inspection - PDI
• Water Testing - 100% ready for operation

Photo Galleries