Inventory Details & Specifications for 15 HP Mercury 15MLH 4-Stroke EFI
Mercury 15MLH 4-Stroke EFIOnly $

3,285.00

*IN STOCK*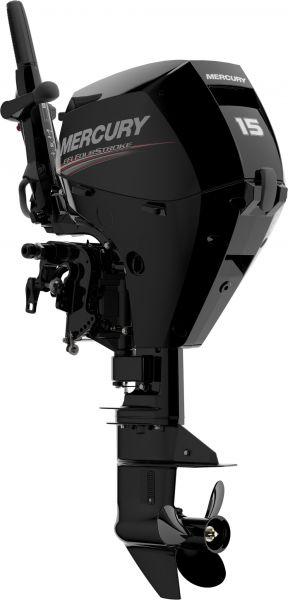 Status: New
Horsepower: 15 HP
Program Year: 2024
Price: $3,285.00
Item Number: ME15MLHBK
Location: Rod's Power & Marine
Description & Standard Equipment:

MSRP: $4,150.00 - Get 20% OFF MSRP - Save $865.00

Go with 5 Years Factory Backed Limited Coverage

Purchase this Mercury outboard model and get a total of 5 years of Mercury factory-backed limited coverage!

In addition to the standard 3-year warranty, you will also receive a 2-year Mercury Product Protection Gold plan!

Forget everything you know about FourStroke outboards. Mercury changes the game. Completely. They're tougher, smaller, and lighter than any other FourStroke on the water. With a combination of performance and efficiency that will take your time on the water to a whole new level.

Specifications:
• Shaft Length: 20in
• Start: Manual
• Controls: NEW Tiller Handle (read more below)
• Fuel System: NEW Electronic Fuel Injection (EFI)
• Trim&Tilt: Manual Tilt
• Dry weight *Lightest model available: 99 lbs / 45 kg
• Fuel Tank: Remote 3.2 USG / 12 L
• Propeller: included

RPM Group Services:
• Pre Delivery Inspection - PDI
• Water Testing - 100% ready for operation

Ultra-lightweight & reliable

The world's first portable outboard tiller that offers ambidextrous operation.

All New Tiller Handle

• Forward shift lever
• Throttle grip mounted stop button
• Throttle friction to hold trolling speed
• Power Tilt button forward mounted
• 1.5 inches (3.8 centimeters) longer than previous handle
• Tiller vertical angle locks at 73 and 45 degrees for easy access and secure highspeed running
• Tiller is adjustable 18 degrees port and starboard from center, enabling installation on either side of the transom

Easiest to drive
The innovative tiller handle for the new 20hp and 15hp outboards sets a new standard for portable outboard tiller control, delivering features, functions and craftsmanship never seen before. The new ergonomic and efficient tiller designs enhance your boating experience with revelations in comfort and function, including:
• Horizontal tiller angle adjustment delivers comfort and easy operation by providing ambidextrous control. The tiller handle can be adjusted for right- or left-hand control. Steer with ease no matter where you sit.
• Likewise, reversible throttle grip rotation lets you adjust the direction of the grip rotation for optimal comfort; no matter which arm you're steering with, you can choose the direction of the throttle grip.
• Driving is made easier with a vertical down stop angle adjustment, which lets you quickly and easily set a vertical operating angle without tools.
• The tiller grip auto throttle return spring automatically brings your throttle to idle when you release the throttle grip. The stop button is located at the end of the grip for quick and easy access.
• There's also a tiller angle option that lets you lock the tiller at 73 degrees up – great for fishing and for trailering.
• You can adjust the throttle response while underway to suit driving preference. Tightening the throttle response allows you to hold your desired speed.

Reliable and durable
Mercury's pre-treatment priming and painting process is engineered specifically for saltwater use, ensuring long-term protection of aluminum castings, and is a vital part of the 20hp and 15hp EFI FourStrokes' exceptional corrosion resistance. Low-copper aluminum alloys shut down corrosion to keep your outboard healthy and powerful; all of Mercury's class-leading aluminum alloys deliver the best protection against corrosion.



Performance

Low weight and awesome torque from the new 20hp and 15hp Mercury FourStrokes get your boat on plane quicker and provide best-in-class acceleration to complement best-in-class top speed. These outboards are easy to install and operate, and electronic fuel injection ensures reliable starting and instant throttle response in any weather for worry-free boating. The lowest transmitted vibration in its class produces a more comfortable driving experience.