Inventory Details & Specifications for 12ft 4in Crestliner 1258 Outreach - Utility Boat
Crestliner 1258 Outreach - Utility Boat
*SOLD*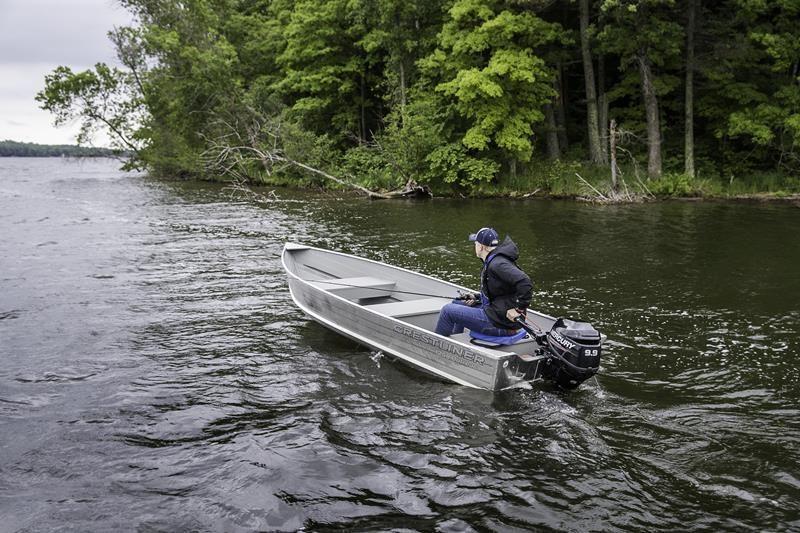 Status: New
Length: 12ft 4in
Program Year: 2018
Item Number: CO258
Location: Alberni Power & Marine
Description & Standard Equipment:

Outreach - A Value on the Water

The Outreach is a dependable, utility boat – plain and simple. Built to last, these deep-v hull aluminum boats offer a great time on the water at an affordable price.

Due to their low maintenance and straightforward design, they are perfect as reliable resort boats.

The Outreach lineup also features bench seating with walk through options and comes in a range of sizes to suit your personal needs and budget.

The transom handles make for easy mobility, so you can take your Outreach up to the cabin or out with you on your next camping adventure.

1258 Outreach - No Frills. No Problem.

While it may be small in size, the 1258 Outreach is a 12' v-hull boat that's built to last and features an extruded full-length keel for extra strength and durability.

The 1258 is as easy to maneuver in the water as it is out of the water with its lightweight construction and convenient transom handles.

Color:
Unpainted Exterior w/Matte Gray interior

Measurements
• Overall Length: 12'4"
• Beam: 58"
• Transom Height: 15"
• Weight (Boat only, dry): 130 lbs
• Max Weight Capacity: 603 lbs
• Max Person Capacity: 3
• Max HP Capacity: 9.9
• Fuel Capacity: Portable
• Aluminum Gauge Bottom: 0.051"
• Aluminum Gauge Sides: 0.051"
• Aluminum Gauge Transom: 0.065"
• Number of ribs: 7

Key Features
• Bench Seats - There is no shortage of comfortable seating with the Outreach's three roomy benches.
• Transom Handles - For easy mobility to and from the water.
• Seating: Aluminum bench seats, Seats, bench (3)

Interior Features
• Heavy-duty tubular seat to gunnel braces

Exterior Features
• Riveted aluminum hull
• Semi-V hull
• Keel, extruded full length, welded (center)
• Aluminum clad transom
• Gunnel, extruded
• Corner caps, formed
• Formed bow plate
• Bow eye
• Transom handles
• Transom corner castings w/handles
• Paint Process, Enamel
• Spray rails, extruded
• Transom drain plug


Crestliner Warranty

• Limited Lifetime Riveted Hull Seam Warranty:Crestliner will repair or replace, at its sole option, any defect in material or workmanship in a main riveted seam which is reported during the period of ownership of the original retail owner.


• Limited Pro-Rated Ten-Year Hull Warranty: If a defect in materials or workmanship in any other part of the hull is discovered within ten (10) years, Crestliner will participate in the repair of the defective part of the boat found to be defective.
Additional Equipment:

Find the perfect Mercury Outboard Motor for your Crestliner Outreach boat here.


Disclaimer:

Alberni Power & Marine, Rod's Power & Marine Ltd. and Alberni Industrial Marine Supply Ltd. – be to referred as RPM Group is not responsible for, and expressly disclaims all liability for, damages of any kind arising out of use, reference to, or reliance on any information contained within the website, while the information contained within the site is periodically updated no guarantee is given that the information provided in this website is correct, complete, and up-to-date.

Product information is based on material received from suppliers. RPM Group is very eager to provide to all clients a verification of its website content.