Inventory Details & Specifications for 350 HP MerCruiser 6.2L Bravo SeaCore - FWC - DTS
MerCruiser 6.2L Bravo SeaCore - FWC - DTSOnly $

32,059.00

*IN STOCK*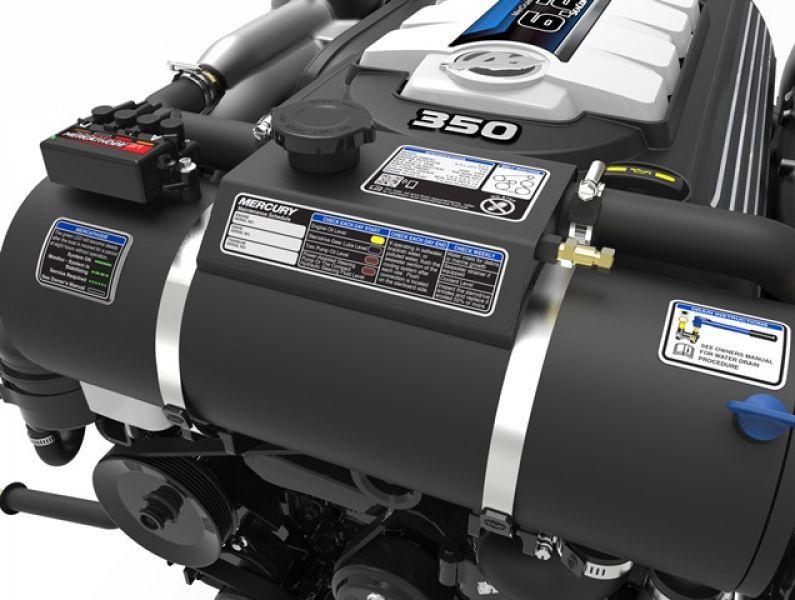 Status: New
Horse Power: 350 HP
Year: 2018
Price: $32,059.00
Location: Alberni Power & Marine
Description & Standard Equipment:
MSRP: $35,624.00 - Get 10% off MSRP / $3,565.00

Complete package including: Engine, Bravo 1, 2 or 3 Seacore Drive - your choice - and Bravo Seacore Transom Shield.

Fresh Water Cooled and Digital Throttle/Shift.

3 year warranty and full 4 year corrosion warranty with option to purchase up to an extra 5 years for total of 8 years.

Mercury® MerCruiser® 6.2L - Rethink the V-8.
A 6.2-litre V-8 engine with unparalleled torque and acceleration to get you on plane quickly and smoothly.

Rethink the V-8.
We certainly did. Everything, part by part, system by system, with a total design and engineering commitment to marine use. The result? A 6.2 litre V-8 engine with unparalleled torque and acceleration to get you on plane quickly and smoothly. A whole new sporty feel at the wheel. Significant reductions in sound and vibration at the helm. Major improvements in the cockpit environment, by design. All wrapped in the legendary reliability you've come to expect from Mercury.®

Powerful Performer.
Power and acceleration are delivered with 6.2 litres of displacement and a long-runner scroll intake manifold that optimises air flow for higher torque.

Sporty Handling.
Adaptive Speed Control maintains rpm during hard turns, creating a sportier, more intuitive driving experience without needless throttle adjustments.

Quiet Ride.
An unmatched boating experience thanks to an intake resonator and aft-facing throttle body that work together to reduce noise dramatically, whilst directing the engine sound away from the cockpit.

Smooth Operator.
Front and rear engine mounts isolate vibration for a smooth, quiet performance.

Easy to Maintain.
Accessible, easy-to-reach, colour-coded maintenance points.

Specifications:
• HP / kW : 350 / 261
• Maximum RPM (WOT) : 5000 - 5400
• Engine Type: V8, 2-valve/cylinder pushrod
• Displacement (CID/L) : 337 / 6.2
• Bore and stroke: 4.0" x 3.75" / 101.6mm x 95.25mm
• Fuel requirement: 90 RON 10% Ethanol Maximum / Unleaded Regular 87 Octane Minimum (R+M/2)
• Fuel delivery system: Computer controlled Multi-Port Electronic Fuel Injection (MPI)
• Engine control system: Mechanical Shifting with Optional SmartCraft DTS / Standard SmartCraft with Electronic Throttle Control
• Air induction: Performance-Tuned Scroll Intake Manifold
• Ignition : SmartCraft PCM 112 Digital Inductive
• Water drain system: Air Actuated "Season Extender"
• Exhaust system: Through prop
• Cooling system: Fresh water cooled available with SeaCore option Water-cooled with thermostat
• Lubrication system: Integrated wet sump
• Recommended oil: NMMA Certified FCW 25W-40 Synthetic Blend
• Engine guardian system: SmartCraft Engine Guardian
• Dimensions (L x W x H): 32 x 30 x 22" / 813 x 762 x 559 mm
• Weight (engine only): 862 lbs / 391 kg
• Compatible drives: Bravo One, Bravo Three, Bravo Two


For shipping in Canada, please call for freight quote!


SeaCore System - The world's premier saltwater corrosion-protection system.

Rather than just enclosing the drive components in a plastic shell, Mercury protects them to the core with industrial hardcoat anodizing, a closedcooling system and widespread use of stainless steel components to ensure your MerCruiser engine handles the rigors of the saltwater environment over the long haul.

Legendary strength and durability

• Hard anodizing and sealing treatment is more abrasion-resistant for added corrosion protection
• Exclusive low-copper, high-strength XK360 aluminum alloy provides unmatched corrosion resistance
• The MercFusion paint system creates a tough, durable barrier to protect your engine
• Closed-cooling system seals out saltwater from the block using five-year, long-life coolant for long-term durability • Quality-grade 316 stainless steel components for all underwater drive fasteners, steering shaft and motor mounts are incredibly durable
• MerCathode® actively prevents corrosion

In a two-year test period in a normal saltwater environment, SeaCore hardcoat-anodized units were 25 times more corrosion-resistant.