Inventory Details & Specifications for 25.5ft Rogue Boatworks Coastal 23 HT Outboard Model
Rogue Boatworks Coastal 23 HT Outboard Model
*ARRIVING SOON*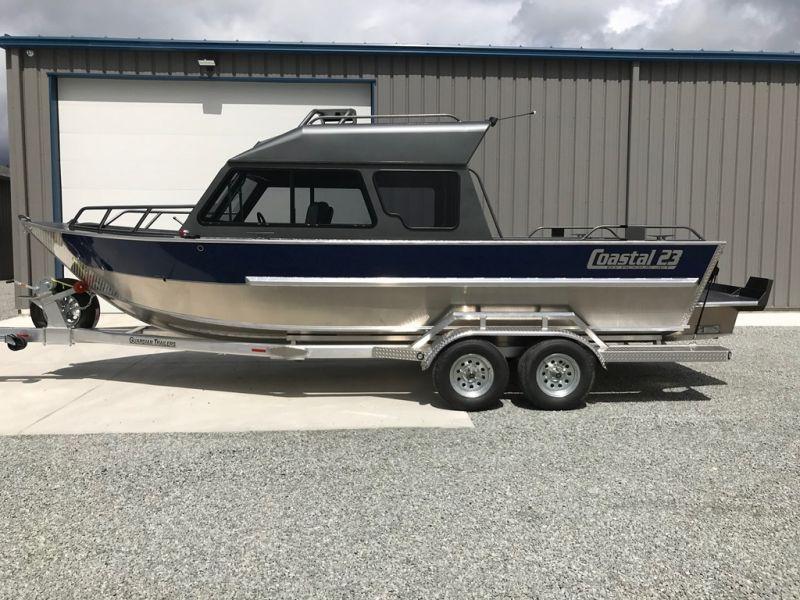 Status: New
Length: 25.5ft
Program Year: 2019
Item Number: RQJT1685A818
Location: Alberni Power & Marine
Description & Standard Equipment:

Rogue Boatworks Coastal 23 Hard Top

Key Features:

• Fully Welded Seams - No Stitch Welded Hull - 40% more Strength and Integrity
• Bottom, Support Girders, Sides & Transom - 5086 Marine Aluminum Alloy
• Powder Coated and Baked twice at 420° - 3 times more corrosion & impact resistant than painted boats
• Proven by Law Enforcement & Government Customers
• Fully Welded D-Tube Customized Aluminum Trailer - no heavy I-Beams made of steel


5 Reasons why Rogue Jet Boats are more expensive & higher quality:

(1)The Impact of Fully Welded Seams in the Hull

There is no stitch welding in the hull all seams are fully welded resulting in about 25 to 30% more labour and 10 to 12 lbs more welding wire when welding the hull together.

Stitch/Skip welded boats loose 40% to 50% of their strength and integrity

Boats that run in rough seas with large or short interval waves are prone to cracking those stitch welds.
The open/not welded areas between the welds is where the flexing and cracking starts.
These areas are all hidden below the floor where most owners don't inspect with limited access, an area.


(2) Stronger Marine Alloy on all Parts

Rogue uses the more expensive, salt water corrosion resistant and 40% stronger 5086 Aluminum on the hull, sides, transom and box girders unlike other manufacturers who only use 5086 on the bottom and the cheaper/weaker 5052 on the sides, transom and box girders.

Rogue uses 1/4" and 3/8" plate in their transom and pod deck others use 1/8" and 3/16" at best.


(3) A Baked Finish - 3 times more resistent

The baked powder coat finish on a Rogue is 3 times more corrosion and impact resistant then painted boats and twice as durable.

The boat goes into the oven twice and gets the powder coat baked on and then a clear coat over top. The finish is the same under the gunnels, dash, seat boxes, fish and floor boxes as well as all visual areas on the top side of the boat.


(4) Rogue Trailers: Long Life Beauties

Rogue makes their own fully welded custom D-tube trailers. Customized for each boat which cost about twice as much.

They are not like the cheap aluminum I-beam trailers or steel galvanized trailers that other manufactures put under their boats.

Nothing is bolted.
The fenders are solid and fully welded. They have torsion axles, disc brakes, oversize radial tires and LED lights. The trailers go all the way to the back of the boat with full welded steps and welded side guides. The trailer on a Rogue is always way over capacity needed to make sure it has a long life.


(5) Less Maintenance Costs

The high durability of Rogue Boats in general, will keep your total cost of ownership low in the long term and the renewal of a 3M Heavy Duty Vinyl Wrap and not the decal material for the exterior sides, would cost you only 10% of a usual new painting.

The Rogue Trailers are equiped with Vault oil bath hubs - No Inspection - No Maintenance - No Service required.


The Coastal Outboard Series are designed to handle the rough stuff

Built extra deep and wide with extra freeboard , these outboard powered Deep Vees from Rogue have been designed for the roughest conditions on rivers, lakes, bays and the ocean.

Safety in high sides (36") and the extra wide bottom (78") for more stability makes the "Coastal" one of the safest and most seaworthy all welded aluminum boats in the industry.

The progressive deadrise of the boats bottom - from 50 degrees at the bow to 18 degrees at the transom - makes for a smooth ride in choppy seas.

Specifications:
• Hull Length: 23' (Upgrade + 1')
• Hull Length overall (Bracket and Transom included, without Outboard): 25.5'
• Beam: 102"
• Side Height: 36"
• Bottom Width: 78"
• Deadrise: 50º Bow / Transom 18º
• Fuel Capacity: 80 Gallon (Upgrade + 10 Gallons)
• Standard Power
• 4 Lifting/Turning strakes
• Side Thickness: 0.125"
• Bottom Thickness: 0.250"
• Transom Thickness: 0.250"
• Box Girder Thickness: 0.160"


Standard Features:
• Extended outboard bracket-full width
• Carpeted Interior Sides and dash
• Heavy duty .250" bottom and .250" transom
• 5086 Marine Alloy at Sides, Bottom, Transom, Decks and Support Girders
• One color or two tone paint
• 2 Panoramic Windshield Wipers
• Welded Downrigger Mounts (2)
• Navigation Lights
• Dual Marine batteries + Switch
• 2 Bilge Pumps and Auto Awitch 1,100 gph
• Non slip grip Steering Wheel
• Locking Glove Box with Grab Handle
• Water Separator
• Full width Transom Fish Box
• 12 Volt Power Point
• Bow Rope Guide with Jam Cleat
• 5 welded Cleats (8 inch)
• Welded Railing bow and stern
• Diamond Plate (step deck, trim, fore deck)
• Bow Storage Compartment
• Zinc Anode on Transom
• Anchor Door in Bow Step Deck 23"X26"
• Horn
• Transducer Bracket
• 4 heavy duty Lifting/Turning strakes
• Paint all diamond plate
• Extended additional Rod Grippers above Side Trays
• Full Fill from port side by Windshield • Additional Transom Storage under Transom Fish Box
• Floor board cut outs at Transom for Draining Debris
• Outboard Bracket
• Switch Panel for Accessories, Wipers, Horn, Bilge Pump
Engines, Trailer & Navigation System:
Main Motor: Mercury 250XL V8 DTS 4-Stroke
Kicker Motor: Optional
Trailer: All Welded D-Tube Aluminum Guardian tandem axle trailer with UHMW bunks and side guides
Navigation System: Simrad NSS9 Evo3 Combo MFD

Included Factory Options:
• Hull Color 1: Silver Vein Dark Grey Powder Coat with Gloss Clear Second Layer Powder Coat (Upgrade)
• Hull Color 2: Metal Flake Dark Blue HD 3M Vinyl
• 2 Suspension Seats
• Hydraulic Steering System
• Walk Thru Door at Transom - starboard
• Diamond Plate on bow sides
• Upgrade to Sportfish Seating Package 48"
• Under Floor Fish Box
• Wash Down Pump System with Transom Scoop
• Spare Tire, Wheel, and Mount
• Port under Helm Storage Compartment
• Drop curtain with 2 zipper roll up door
• Taller bow Railing 12"
• Upgrade 1' longer boat, 1' longer trailer, 10 gallons more fuel
• Full hard top with sliding side windows, walk thru
• Bow door extended up into hardtop, dome light, interior grab handles in roof and above port and starboard windshield, roof railing, rear facing dome
• Light, anchor light on roof, and radar arch on roof

High End Trailer Features:
• All welded full tube aluminum Guardian tandem axle trailer (+ Upgrade 1' longer trailer)
• With UHMW (Ultra High Molecular Weight Polyethylene) bunks and side guides
• 4 wheel Disc brakes, LED lights, Vault oil bath hubs
• 15" 205X15 6ply tires and wheels with galvanized rims
• 4,000 lb. per galvanized axle
• 2 wheel tongue jack, winch

Hull Warranty for first purchasers:
• 10 Years for Commercial Users
• Lifetime for Private Users

The RPM Group is the exclusive dealership for Rogue Boats in Canada!
Additional Equipment:
• DTS Panel Mount Control
• Dashboard Key Switch
• SmartCraft Tachometer Kit
• Rigging Hose Kit
• Enertia Stainless Steel Propeller
• Chassis Boots for Mariner Bentley Suspension Seats
• Lowrance 3G Broadband Radar Kit
• Simrad GPS Antenna GS-25

Additional Services & Costs:
Pre Delivery Inspection & Freight: $2,500.00

Disclaimer:

Alberni Power & Marine, Rod's Power & Marine Ltd. and Alberni Industrial Marine Supply Ltd., to be referred as RPM Group is not responsible for, and expressly disclaims all liability for, damages of any kind arising out of use, reference to, or reliance on any information contained within the website, while the information contained within the site is periodically updated no guarantee is given that the information provided in this website is correct, complete, and up-to-date.

Product information is based on material received from suppliers. RPM Group is very eager to provide to all clients a verification of its website content.