Inventory Details & Specifications for 14ft Crestliner 1436 CR JON - Utility Boat
Crestliner 1436 CR JON - Utility Boat
*SOLD*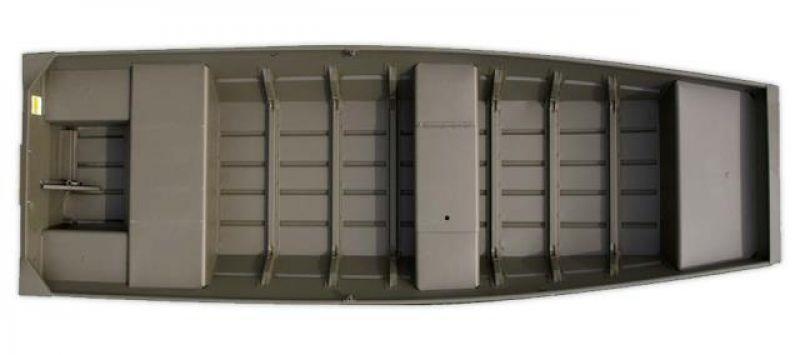 Status: New
Length: 14ft
Program Year: 2018
Item Number: C1436
Location: Alberni Power & Marine
Description & Standard Equipment:

CR JON Model 1436 - It's always a good time for a fishing break!

You may work hard a lot, but you deserve some quality time on the water with this no-frills aluminum jon boat.

Durable, roomy and with formed-in spray rails for a drier ride, the 1400 CR Jon is a great way to spend some time on the water.

Colour:
Painted, interior & exterior (Olive drab)

Measurements
• Overall Length: 14'
• Beam: 57"
• Chine Width: 36"
• Side Depth: 17"
• Transom Height: 15"
• Weight (Boat only, dry): 185 lbs
• Max Weight Capacity: 675 lbs
• Max Person Capacity: 4
• Min HP Capacity: 9.9
• Max HP Capacity: 20
• Aluminum Gauge Bottom: 0.064"
• Number of ribs: 8
• Bottom: Flat
• Bow shape: Square

Key Features
• Center Storage Compartment - Utilize smart storage solutions with a spacious flip top and center seat storage compartment.
• Formed in Spray Rails - In order to deliver the incredibly dry ride Crestliner is known for, our spray rails are designed into the hull, instead of tack-welded on after the fact like most competitors' boats.
• Center Storage Compartment - Utilize smart storage solutions with a spacious flip top and center seat storage compartment.
• Transom Handles - For easy mobility to and from the water.
• Oar Lock Sockets - Turn your CR Jons into a rowboat with ease.
• Seating - Seat, bench (2)
• Plug, drain
• Eye, stainless steel (bow)
• Corner caps, formed (stern)
• Gunnel, extruded
• Spray rails, formed
• Paint Process, Enamel


Crestliner Warranty:

• Limited Lifetime Riveted Hull Seam Warranty:Crestliner will repair or replace, at its sole option, any defect in material or workmanship in a main riveted seam which is reported during the period of ownership of the original retail owner.


• Limited Pro-Rated Ten-Year Hull Warranty: If a defect in materials or workmanship in any other part of the hull is discovered within ten (10) years, Crestliner will participate in the repair of the defective part of the boat found to be defective.
Additional Equipment:

Find the perfect Mercury Outboard Motor for your Crestliner JON boat here.


Disclaimer:

Alberni Power & Marine, Rod's Power & Marine Ltd. and Alberni Industrial Marine Supply Ltd. – be to referred as RPM Group is not responsible for, and expressly disclaims all liability for, damages of any kind arising out of use, reference to, or reliance on any information contained within the website, while the information contained within the site is periodically updated no guarantee is given that the information provided in this website is correct, complete, and up-to-date.

Product information is based on material received from suppliers. RPM Group is very eager to provide to all clients a verification of its website content.