Inventory Details & Specifications for 9ft 6in Mercury 290 Air Deck Hypalon*
Mercury 290 Air Deck Hypalon*Only $

CALLFORPRICE

*ARRIVING SOON*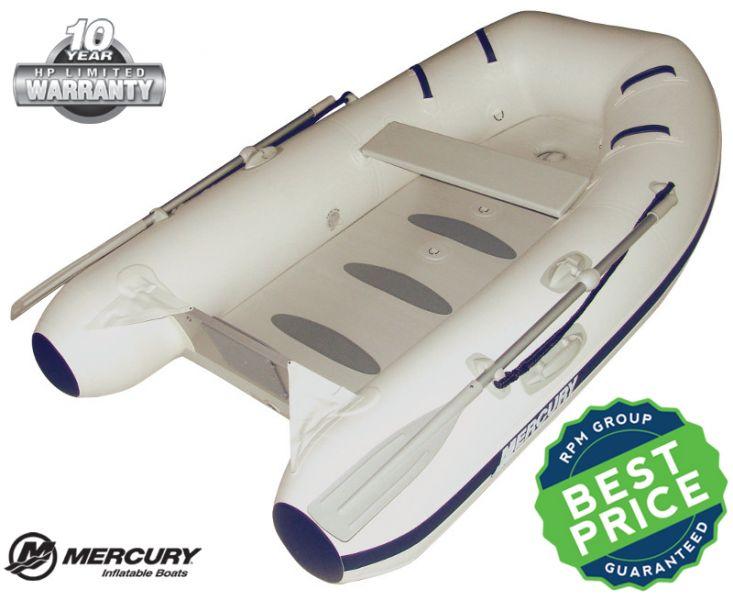 Status: New
Length: 9ft 6in
Price: $CALLFORPRICE
Item Number: AA310132M
Location: Alberni Power & Marine
Description & Standard Equipment:


*High resistance to abrasion, hydrocarbons, UV light and fading

Minimal Assembly, Maximum Convenience & Comfort
A cushioning, inflatable floor for an extra margin of comfort and stability.


10-Year HP Warranty
Mercury Inflatable HP boats offer the best guarantee in the market including a 10-year limited warranty on the Achilles fabric and air-holding seams
giving you assurance of our commitment to quality.


Not Too Hard, Not Too Soft
General-purpose, lightweight boats with an air-filled floor for easy transport. Doesn't get much easier than this. Soft enough to be easy on the
knees. Rigid enough to hold five people stable on deck surface.


Stitched for Support
The Mercury® high-pressure "X-Stitched" air floor makes for easy, fast setup. Thousands of X-stitched fibers for excellent support. Fifty percent more
rigid than traditional air floor systems.


Ready For Anywhere
Ship-to-shore transport or for your next family outing. The Air Deck® is built to be maneuverable and boasts a roomy interior. No floorboards, for
maximum portability. Stow it anywhere. Take it out when you're ready to hit the water.


Specifications:
• Material: Hypalon
• Colour: White
• Person Capacity: 4
• Load Capacity: 1400 lbs.
• Engine HP Maximum: 15
• Max Engine Weight: 132 lbs.
• Engine Shaft Lenght: 15 inch
• Length: 9ft 6in / 290cm
• Beam width: 4ft 1n/ 124cm
• Boat weight: 103 lbs.
• Fabric Thickness: 0.84mm
• Tube Diameter: 16inch
• Air Chambers: 3 + keel + floor
• Air Keel
• Seat
• Carrying Bag
• Repair Kit
• 2- Oars / Paddles

Find the perfect Mercury Outboard Motor for your Mercury Inflatable Boat and get 17% off MSRP.

Featured Inventory
Photo Galleries