Inventory Details & Specifications for 12ft Mercury 365 Heavy Duty
Mercury 365 Heavy DutyOnly $

CALLFORPRICE

*ARRIVING SOON*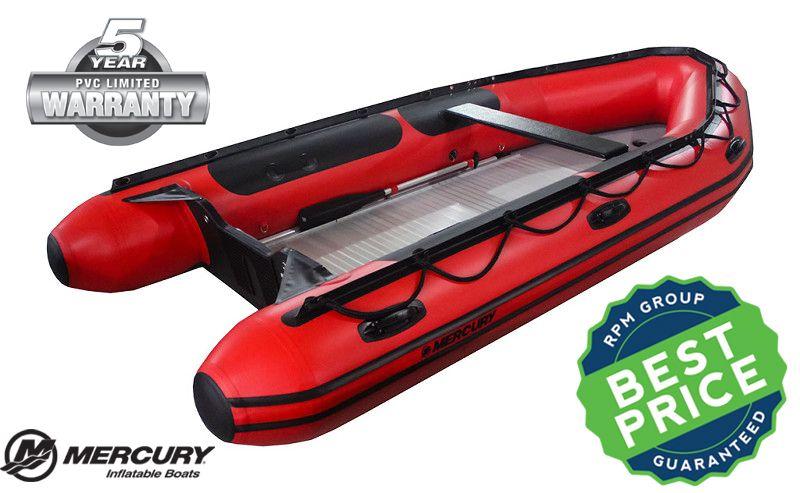 Status: New
Length: 12ft
Program Year: 2017
Price: $CALLFORPRICE
Item Number: AA380112M
Location: Alberni Power & Marine
Description & Standard Equipment:


Made for bigger loads and bigger engines.
Perfect for heavier water and heavier gear. Reinforced fabrics. Durable floor. Up to 50 horsepower outboards.


Weather the Water
Reinforced fabrics and a durable floor can handle you and your gear. Let your boat do the heavy lifting. Made strong and made to last. Year after
year.


Heavy Duty to Handle Anything
"Amazing" doesn't cut it. Whether you stay on board or roll off the pliable sides with a dive tank strapped to your back, the Heavy Duty Series takes on any adventure you throw at it.


Big and Bold
The Heavy Duty Series takes on the toughest waters. Built strong for hard conditions and large engines, these inflatables can handle up to a 50 hp FourStroke. Stability in any condition for the pro or beginner.


5-Year PVC Warranty
Mercury Inflatable PVC boats offer one of the best guarantees in the market including a 5-year limited warranty on the Haku fabric and air-holding thermowelded seams giving you assurance of our commitment to quality.


Specifications:
• Material: PVC
• Colour: Red
• Person Capacity: 6
• Load Capacity: 1653 lbs.
• Max Engine HP: 25
• Max Engine Weight: 187 lbs.
• Engine Shaft Lenght: 15in
• Length: 12ft / 365cm
• Beam width: 5ft 9in/ 175cm
• Boat weight: 216 lbs.
• Fabric Thickness: 1.15mm
• Tube Diameter: 18in
• Air Chambers: 3 + keel
• Air Keel
• Seat
• Carrying Bag
• Repair Kit
• 2- Oars / Paddles

Find the perfect Mercury Outboard Motor for your Mercury Inflatable Boat and get 17% off MSRP.

Featured Inventory
Photo Galleries