Inventory Details & Specifications for 8ft 2in Mercury 250 Dynamic - RIB -
Mercury 250 Dynamic - RIB -Only $

2,149.00

*IN STOCK*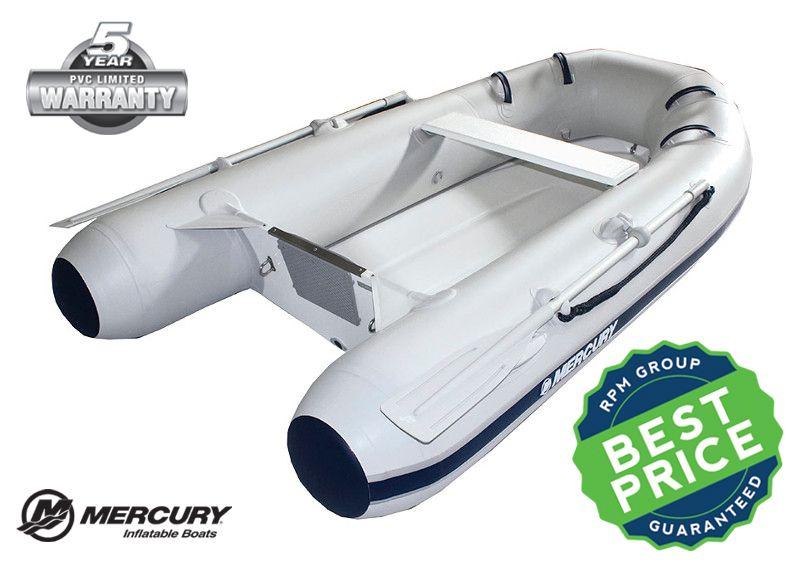 Status: New
Length: 8ft 2in
Price: $2,149.00
Item Number: AA260050M
Location: Alberni Power & Marine
Description & Standard Equipment:

MSRP: $2,391.00 - Save more than 10% / $242.00

Best of Both Worlds
Integrated hull and transom for extra strength and stability. Extra cargo room. Ideal strength to weight ratio.


Solid and Stable
Sturdy design. Rigid construction. And hull strength that holds its own when compared head-to-head with conventional craft. All with the exceptional stability of an inflatable boat.


Fusing Reliability and Performance
Each model features a laminated fiberglass hull. Molded with vacuum injection technology so the hull and transom become one piece of incredible marine technology.


End the Storage War
The Dynamic RIB is made to last. Durable down to the last detail. And with an incredible strength-to-weight ratio, it can hold all the cargo you need to make your excursion a success.


5-Year PVC Warranty
Mercury Inflatable PVC boats offer one of the best guarantees in the market including a 5-year limited warranty on the Haku fabric and air-holding thermowelded seams giving you assurance of our commitment to quality.


Specifications
• Material: PVC
• Colour: Gray
• Person Capacity: 3
• Load Capacity: 1146 lbs.
• Max Engine HP: 5
• Max Engine Weight: 66 lbs.
• Engine Shaft Length: 15in
• Length: 8Ft 2in / 250cm
• Beam width: 4ft 9in/ 145cm
• Boat weight: 74lbs.
• Fabric Thickness: 0.85mm
• Tube Diameter: 15in
• Air Chambers: 3
• Seat
• Carrying Bag
• Repair Kit
• 2- Oars / Paddles

Find the perfect Mercury Outboard Motor for your Mercury Inflatable Boat and get 17% off MSRP.

Featured Inventory
Photo Galleries