Inventory Details & Specifications for 8ft 4in Mercury 250 Sport FRP Floor* - Green -
Mercury 250 Sport FRP Floor* - Green -Only $

1,809.00

*IN STOCK*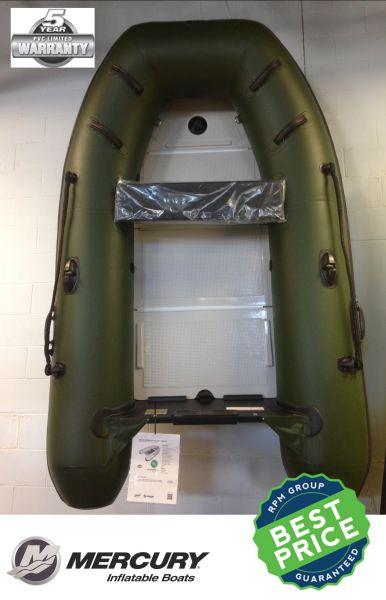 Status: New
Length: 8ft 4in
Price: $1,809.00
Item Number: AA270139M
Location: Alberni Power & Marine
Description & Standard Equipment:

MSRP: $2,012.00 - Save more than 10% / $203.00

* Fiber Reinforced Plastic Floor

Lasting Performance. Advanced Capability.
Tough, flexible, fiber-reinforced polymer floorboard. More speed, more control, more fun.


A Better Alternative
When it comes to versatility on the water, go Sport. The ideal alternatives to aluminum and fiberglass boats, maximizing portability and economy without compromising performance.


All-Purpose Fun
The Sport is great for cruising, family fun, and ship-to-shore travel. Go beyond the expected with serious strength, maneuverability, and performance. A lower center of gravity. Hassle-free assembly. Sleek design. Get out on the water. Go the distance.


Better from the Floor Up
Fiber-reinforced polymer floorboards for long-lasting buoyancy, flexibility, and lower thermal conductivity. Three separate internal air chambers and non-skid floorboards for greater and safer stability.


5-Year PVC Warranty
Mercury Inflatable PVC boats offer one of the best guarantees in the market including a 5-year limited warranty on the Haku fabric and air-holding thermowelded seams giving you assurance of our commitment to quality.


Specifications
• Material: PVC
• Colour: Green (some images shows same model in gray)
• Person Capacity: 4
• Load Capacity: 992 lbs.
• Max Engine HP: 8
• Max Engine Weight: 88 lbs.
• Engine Shaft Length: 15in
• Length: 8ft 4in / 250cm
• Beam width: 5ft 1in / 154cm
• Boat weight: 111 lbs.
• Fabric Thickness: 0.85mm
• Tube Diameter: 16in
• Air Chambers: 3 + Keel
• Air Keel
• Seat
• Carrying Bag
• Repair Kit
• 2- Oars / Paddles

Find the perfect Mercury Outboard Motor for your Mercury Inflatable Boat and get 17% off MSRP.

Featured Inventory
Photo Galleries