Inventory Details & Specifications for 8ft 10in Mercury 270 Dinghy
Mercury 270 DinghyOnly $

1,259.00

*IN STOCK*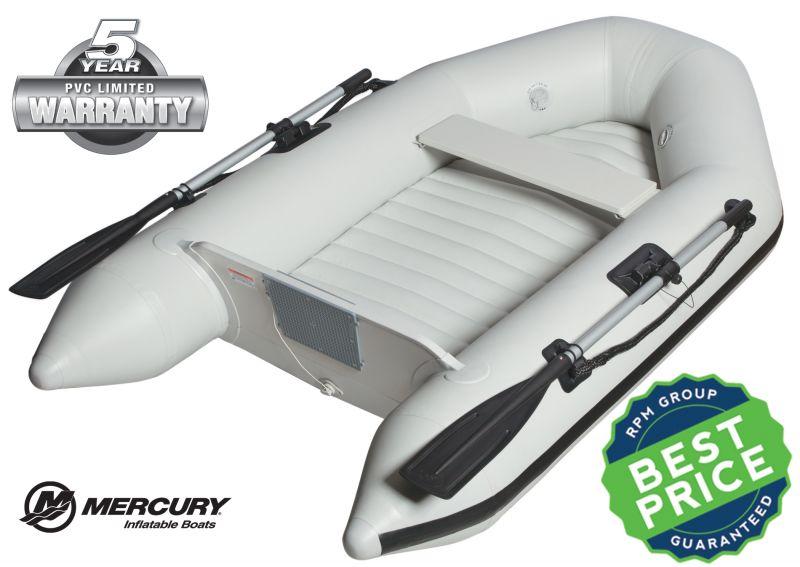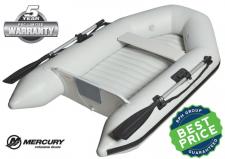 Status: New
Length: 8ft 10in
Price: $1,259.00
Item Number: AA270134M
Location: Alberni Power & Marine
Description & Standard Equipment:

MSRP: $1,403.00 - Save more than 10% / $144.00

First-Time Boat Owners - Could be your first inflatable. Or your last. Safe, stable, versatile.


Start Strong
Compact and economical for the first-time inflatable boat buyer. Boat with a confidence from your first voyage on.


Safe from Ship to Shore
Two additional inflatable compartments (floor and keel) accompany the internal air chambers. Increased safety. Maximized functionality.


A Perfect Fit
Functional. Cost-effective. And backed by a five-year warranty. So whether it's for the family on vacation or the fisherman with space constraints, you're covered.


5-Year PVC Warranty
Mercury Inflatable PVC boats offer one of the best guarantees in the market including a 5-year limited warranty on the Haku fabric and air-holding thermowelded seams giving you assurance of our commitment to quality.


Specifications:
• Material: PVC
• Colour: Gray
• Person Capacity: 3
• Load Capacity: 783 lbs.
• Max Engine HP: 5
• Max Engine Weight: 66 lbs.
• Engine Shaft Length: 15 inch
• Length: 8Ft 10in / 269cm
• Beam width: 4ft 4in/ 132cm
• Boat weight: 55 lbs.
• Fabric Thickness: 0.6mm
• Tube Diameter: 13in
• Air Chambers: 2 + Keel + Floor
• Air Keel
• Seat
• Carrying Bag
• Repair Kit • 2- Oars / Paddles

Find the perfect Mercury Outboard Motor for your Mercury Inflatable Boat and get 17% off MSRP.

Featured Inventory
Photo Galleries